Before any anti-abortion activists want to take me to task on this, let me make myself clear. I will not argue about the sanctity of life, Margaret Sanger's connection to eugenics or anything else related to abortion. This is a rare moment in which I'm invoking my "this is my sandbox" rule. If you are going to rant about abortion, take it elsewhere. I won't publish it and won't get drawn into that argument. Views on the morality of abortion or the widely disproved but persistent rumor that abortions cause breast cancer will be deleted.
As my readers know, I have a complex and mostly contentious relationship with
Susan G Komen for the Cure (TM)
. For any new readers, I highly suggest you begin
HERE
(Cancer Culture Chronicles) to understand why. Twenty percent overhead, a lack of progress and an emphasis on education over research are major issues. So is the topic of Pinkwashing, which you can read more about
HERE
(Pink Ribbon Blues).
But still, I have participated in the Race for the Cure every year since my 2008 diagnosis for reasons
I explain here
.
But I can no longer hold my nose and send in my registration fee.
On Tuesday, it was announced that Komen is ending its partnership with
Planned Parenthood
.
More than 90% of Planned Parenthood's services provide sexual and reproductive health care. They operate more than 800 clinics and serve more than 3 million women every year. (
SOURCE
).
And let's face it. People with insurance and doctors offices don't use Planned Parenthood. These clinics serve the uninsured and the poor. When I graduated from college and didn't have insurance, I used Planned Parenthood too and without them, I wouldn't have gotten my annual PAP Smear. And that is one cancer screening test that is directly correlated with reducing cancer deaths. They provide affordable health services and quality information that focus on prevention though use of contraceptives and education.
In the past two years, Komen has given Planned Parenthood just over a million dollars to pay for breast cancer screenings and other breast health programs. That has covered 170,000 screenings of the over 4 million done at PP in the last five years.
(source)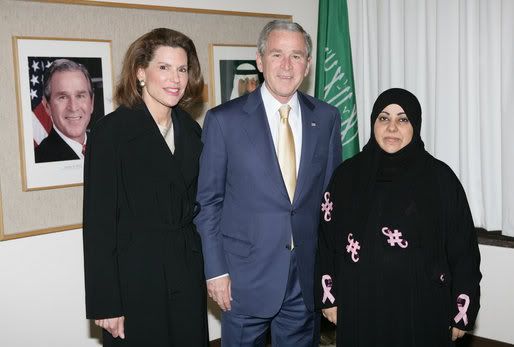 Komen has taken a lot of heat from groups opposed to abortion for this partnership because Planned Parenthood is the biggest provider of abortion in our country. And founder Nancy Brinker's ties to the Republican Party, the party with the anti-abortion platform, are well documented. She and then-husband Norman were major contributors to the George W Bush campaign and when he was elected, she was appointed Ambassador to Hungary.
(source)
Today the
news came out that Komen will no longer offer grants to Planned Parenthood
.
Leslie Aun explains why
.
Komen spokeswoman Leslie Aun said the cutoff results from the charity's newly adopted criteria barring grants to organizations that are under investigation by local, state or federal authorities. According to Komen, this applies to Planned Parenthood because it's the focus of an inquiry launched by Rep. Cliff Stearns, R-Fla., seeking to determine whether public money was improperly spent on abortions.
Congressman Cliff Stearns
Uh-huh. Komen adopted some new guidelines that just happened to exclude Planned Parenthood. And the "investigation??" Riiiight. That's not political either.
From NPR
.
That investigation, which has no set timetable, was launched in September when Stearns asked Planned Parenthood for more than a decade's worth of documents.
Stearns, in a statement emailed to the AP on Monday, said he is still working with Planned Parenthood on getting the requested documents. He said he is looking into possible violations of state and local reporting requirements, as well as allegations of financial abuse, and would consider holding a hearing depending on what he learns.
Many of the allegations were outlined in a report presented to Stearns last year by Americans United for Life, a national anti-abortion group, which urged him to investigate.
As a word about screening. I have written on here many times about the
limitations of mammography
. Every time I talk about it, I try to make it clear that while it's imperfect and missed this gal's 8 cm tumor, it is our current standard of care. Here is a portion of
Planned Parenthood's website information about breast health
.
Breast cancer screenings, such as breast exams or mammograms, help detect breast cancer in its earliest, most treatable stage. These breast cancer detection tools can save lives. More than nine out of 10 women who detect breast cancer early live at least five years — and many live much longer.

Planned Parenthood doctors and nurses teach patients about breast care, connect patients to resources to help them get vital biopsies, ultrasounds, and mammograms, and follow up to make sure patients are cared for with the attention they need and deserve.
How can anyone who claims to care about the health of women take issue with this?
And let's see. What's Komen's mission again?
Well, that's kind of funny because they don't have anything labeled "Mission Statement" on their website, at least not that I can find. (Are you listening, investors?). But here's something from their
About Us
page.
As the world's largest grassroots network of breast cancer survivors and activists, we're working together to save lives, empower people, ensure quality care for all and energize science to find the cures.
Apparently, the only people worth empowering are those who align with a certain political point of view.
So what can we do?
#1 BIG #1 Not another dime to Komen.
I know that social media has been abuzz about this story. Please share ideas for other actions to take.
And thank you for respecting the boundaries of my sandbox.
EDITED TO ADD RESOURCES
Alternate organizations to consider supporting -
-
Breast Cancer Action
-
National Breast Cancer Coalition
-
METAvivor
(Metastatic Breast Cancer)
-
Army of Women
-
Metastatic Breast Cancer Network
-
Planned Parenthood
-
Relay for Life
-
Stand Up to Cancer
Local organizations that provide practical assistance to women with breast cancer (In my area, that's
Pink Ribbon Girls
)
NCI-funded comprehensive/cancer centers which are conducting basic research in to breast and other cancers
Petition to
sign from CREDO
Quick note the the Anonymous poster: I don't have a comment. The numbers came from that link.